With the sun shining and the temperature rising, summer is clearly on its way! And what better way to spend an hour or two, in the glorious British sunshine, than to have a relaxing punt ride down the river, soaking up the rays.
A punt is a flat bottomed boat which does not have a Keel, and its propelled by means of a long pole. Punts were introduced as as pleasure craft in Edwardian times, since then punting has become one of the most popular ways to see the famous bridges and colleges along the river Cam.
For all EC English language students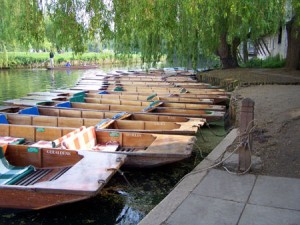 a punting trip is free of charge and part of your weekly activity program. See Mike for further details.
Punting will be running weekly from the first week of May and throughout the whole summer. So if you fancy a chill-out before or after your English Class, then this is for you!
There's plenty more activities to look out for in May so check the activity program and the activity board in the computer room.
Have a great week!