May 31st is another traditional English bank holiday.
The spring bank holiday started as the Monday after Pentecost. This is known as Whitsun or Whit Monday in the United Kingdom.
The school will be closed meaning that all EC CAMBRIDGE ENGLISH LANGUAGE STUDENTS get an extra day off to relax.
So what to do?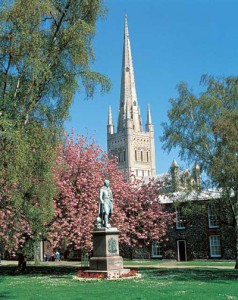 Well as mentioned in my previous blog, you can visit the ancient city of Norwich (above), steeped in Norman and Saxon history. Visit the Cathedral, castle and city walls.  £22 including a tour of the city.
See me [Mike] in the computer room for more details.
If you don't fancy a trip, why not stay in Cambridge and enjoy the shops, restaurants and bars. Maybe use your EC Cambridge student cards and get a discount in selected stores.
What ever you choose to do, have a brilliant bank holiday weekend.