If you are looking for preparation courses for the IELTS exam, then look no further. At EC Cambridge we offer 30 English lessons per week purely focused on preparing for IELTS. In the class you will not only improve your General English but will get all the help, support and practice you need to succeed in passing this exam.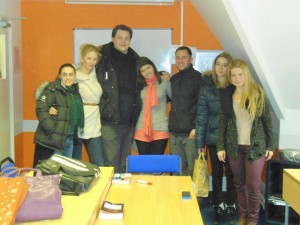 The IELTS is internationally recognised and is ideal for students looking to further their studies in the UK. It is recognised as a level of English by the universities of England so is ideal for students looking to perhaps study a masters or PHD in the UK. If you want more information on our IELTS exam preparation courses, check out our main website or if you live locally pop in and see us.
Our IELTS class teachers have vast experience in this exam, with some of them even working for the IELTS exam board. Therefore skills are taught first hand.  So don't delay book today at EC Cambridge!