What sets us apart at EC Cambridge, is the great range of courses we offer. Most schools offer General and Intensive English but at EC Cambridge we have more than this and a lot of flexibility.
If you are looking for a Business English course in Cambridge, then look no further. At EC Cambridge, we offer not one, not two but three Business English options!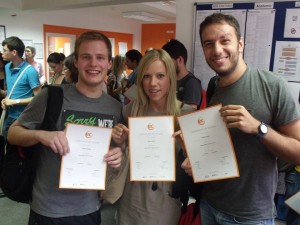 Option one is a mixture of Business English and General English. You study for 4.5 hours per day. For 3 hours, you study English in General. As well as learning vocabulary and grammar, you get lots of practice, speaking, listening reading and writing. The other 1.5 hours is spent focusing on Business English.
The second option is English for work. Again you study for 4.5 hours per day but all the lesson is based around work and Business. Your English will still improve in General, but work and business is the main focus here.
If you want something more specific, then the third option might be for you. Business 1-2-1 classes give you the chance to focus on your specific needs. These can also be taken alongside the first two options and you can do as little as 45 minutes twice a week to as many as 30 lessons per week.
So if you are looking for a Business English Course in Cambridge, check out our main website or send us an enquiry for more information.