Lets be honest. Travelling to somewhere new can be a nerve-wracking experience. Leaving your own country, often alone and in some cases for the first time can be daunting enough. So what can you expect when you arrive to EC Cambridge English School?
Well, first of all you are not alone. Generally all the students who arrive the same day as you are in the same boat. They are also travelling for the first time to start their English Language Courses in Cambridge. On arrival you will be greeted by our friendly front desk staff, Mike and Natascha. You will also meet our student ambassadors. These are students who help out their fellow students in an ambassador role. Hopefully between us we will help you feel relaxed and comfortable.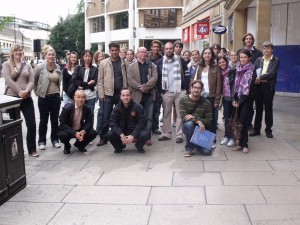 On the first morning, you will receive your student handbook, a map of the city and be given a full induction to the school and a tour of the city to help you feel at home. This is followed in the evening by a Welcome Dinner. This is FREE and a great opportunity for you to mingle and chat with your fellow starters in a relaxed non school atmosphere.
Staff and teachers are here to be on hand and help with any questions or problems you may have.