Here is Januarys activity programme! Keep an eye out for same amazing excursions such as weekend trips to Paris, Amsterdam and Edinburgh!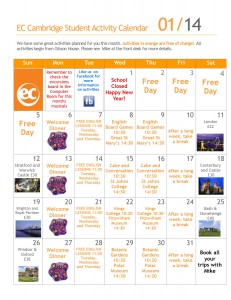 As well as all our usual great trips we will be adding a Greene King brewery tour in Bury St. Edmunds and including the fantastic Sea Life Centre (The worlds oldest aquarium) as part of the Brighton and Royal Pavilion trip. We'll also be adding a summer time weekend away at the seaside trip for when the sun is shining bright.
Throw in a magical trip to the Harry Potter Studios, Musicals in the west end of London, International, Champions League and Premier League football matches and all in all it should be an exiting year! Remember to check this blog and Facebook regularly for updates!