Marah Faroun is studying on an Academic Year English Course at EC Cambridge. Here she tells us a little more about embracing a new culture whilst studying at EC Cambridge.
Being raised in a society where the vast majority of its citizens are muslims, I have never faced any difficulties whatsoever in fitting in, nor have I ever been discriminated against. However, the idea of settling in a foreign country where people vary in their traditions and beliefs, I felt the threat of being picked on for demonstarting my religion through wearing the Hijab (head cover) and I kept visualising how discrimination could be excruciatingly painful.
I have always believed that "Wearing religious and cultural symbols and dress is part of the right of freedom of expression". It is part of the right to freedom of religion or belief – and these rights must be enjoyed by all faiths equally. But do all people find this sensible?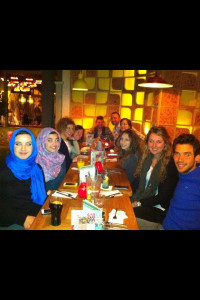 As soon as I arrived here in Cambridge, It came to me as a complete surprise the fact that not only were people understanding and welcoming, they were also very curious to know more about my life, inviting me over to dig deeper in what media depicts so little about, and that gave me a real sense of belonging.
It felt great to be understood for who I truly was and I finally had the opportunity to explain to people that what a few radical Muslims did, doesn't mean that we are all bad.
Islam means peace and thats what I was taught to live by throughout my whole life. I have made alot of friends here and I am glad to hear that they are all more aware of the real situation, irrespective of what mass media promotes.
Finally, I have learnt that every group will go through descrimination at one point or another.
The Irish immigrants in America. The Chinese immigrants in America. The Japanese internment of WWII. Jews, gypsies, Romanians, Hungarians, homosexuals in Nazi Germany. (There are others but I'm just listing off the top of my head).
One day we may be able to overcome this, but for now we can only wait. I'm sorry if you're discriminated against, any type of prejudice is just wrong, plain and simple.