Alex Flot is taking an Academic Year English Course at EC Cambridge. Here he tells us about his role as a student ambassador and a little about EC school.
I am 23 years old and I come from France. I finished my studies last year and I am now in EC school in Cambridge.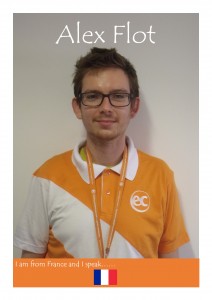 I decided to stay 6 months in EC to improve my English and after to work in a company, for 6 months too, to improve my vocabulary and my knowledge.
I like to be an ambassador because I like to help people in any case and it is also another way to improve my English. We have already welcoming new students and I realize that they like our attendance because we can speak about our experience in Cambridge and about things they need to know.
I like EC school because the building is completely new and we work in a good atmosphere, I felt already good on my first week in the school. The staff  is really kind, open-mind and they are always here for you if you have any problems.