As well as studying Cambridge English at EC Cambridge we love to give our students lots of opportunities to meet other students, practice their English and have some fun.
So here is July's activity programme! Remember all activities in Orange are free of charge! So this month we hope (fingers crossed) that the sun will be shining! And therefore we have added Touch Rugby, Rounder's and Volleyball to the programme. This is on top of our Football activity every Sunday! We will also be going to Punting and visiting the beautiful Botanic Gardens. For those who want to experience some Cambridge culture, we will be visiting Kings College Chapel and the Fitzwilliam Museum. If you have some evenings free why not join us for one of our pub nights or Bowling. Totally free to EC students!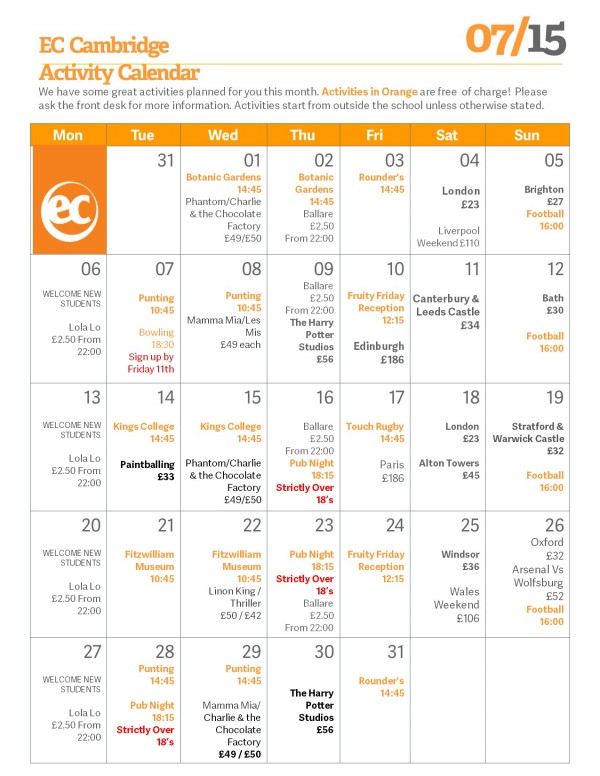 As well as the free activities we also have some excellent trips available for excellent prices. For those students who fancy a weekend away, we have weekend trips to Paris, Liverpool, Edinburgh and Wales. For those who just fancy a day away we have some trips to some historic cities such as Oxford, Stratford and Windsor, the countries capital London and for the thrill seekers, Alton Towers theme park. We also will be giving our students a chance to see some excellent west end shows in London; classics such as Phantom of the Opera, The Lion King, Les Miserable and some more modern adaptations like Mamma Mia, Charlie and the Chocolate Factory and Thriller. If musicals aren't your thing, how about a trip to the Harry Potter Studios or Paintballing. For those of you who love football we even have tickets to some pre season games. A double whammy on the same day; Arsenal vs Wolfsburg and Villarreal vs Lyon.
If you want to know more about our activities take a look at our Facebook page!