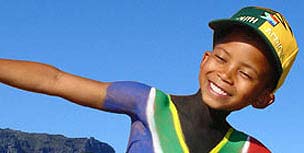 Fans all over the world are holding their breath in anticipation for the 2010 FIFA World Cup™ Final Draw taking place on December 4, 2009 at the Cape Town International Convention Centre (CTICC).
Long Street, Cape Town's renowned party street, will be ablaze with excitement and promises to offer a party of note.
Anyone is free to join in and enjoy the vibe.
Long Street will have a big screen broadcasting a live cross-over feed from the CTICC, a host of entertainment, food galore and an atmosphere that would be hard to rival anywhere in the world.
Long Street's Festival Line-up:
12:00 – 13:20 Cultural Performers
13:30 Alistair Izobell & Band
13:55 Alistair Izobell sings Welcome to Cape Town, joined by Zakumi to welcome FIFA representatives to launch the Fan Fest project.
14:00 Fan Fest launch (with on-stage photo opportunities)
14:20 – 16:15 Cultural performers (4 acts perform for approximately 20 minutes each )
16:20 Fancy Galada
16:45 TBC
17:00 Flat Stanley
17:35 TKZee
18:15 K'Naan
19:00 Live draw broadcast
20:45 "Africa Unite" Segment (song produced by Cedric Samson)
20:55 FreshlyGround
21:50 Cassette
22:45 Jimmy Dludlu
+/- 24:00 Wind down to END
Cultural performances will include puppets, stilt-walkers and fire-dancers.
There will be a hospitality area created for the media. The whereabouts are not yet known.
Please note that the line-up is subject to change
Comments
comments