This morning students – Ali Aljerhani ( Saudi Arabia ) and Benaj Argadal ( Turkey ) in Nasreen's Intermediate class were very busy in a game of "Swot the Verb".
The verbs "do" and "make" on the whiteboard, the teacher calls out a word and students must race to swot whether the correct verb is indeed "do" or "make" Eg: cake – make a cake, homework – do your homework.
Well done Nasreen and students!!
Nicoletta – DOS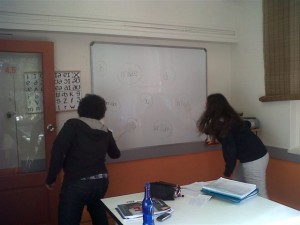 Comments
comments