As part of the discussion held about South African politics & history with Amanda last week, students spend the 2nd part of the discussion at the Zapiro Exhibition where they took a picture with 'Nelson Mandela'.
The exhibition, "ZAPIRO: Jiving with Madiba" by Jonathan Shapiro is showing at the South African Jewish Museum Cape Town's Company's Garden. Not just another tribute to Nelson Mandela, this exhibition, the largest ever of Zapiro's work, celebrates the life and contributions of South Africa's greatest citizen, his struggle, successes and shortcomings.
Jonathan Shapiro is South Africa's most popular and leading political cartoonist who has won numerous awards and spoken at many cartoon events & exhibitions around the world.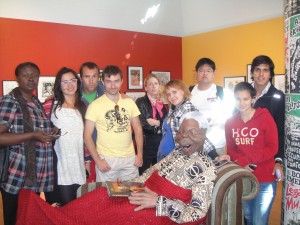 Comments
comments