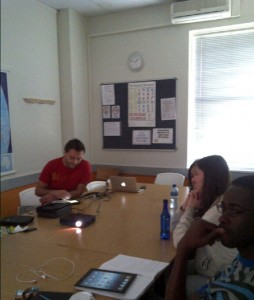 The first week of our brand new class, Media Studies, ended with students giving presentations on "Dangerous Reporting". Individually, students had to research various news stories which could prove to be dangerous for reporters. Some of the presentations sparked a lot of discussion in class, especially one given by Ibrahim about "Triad" (an underground criminal organization) based in countries with a significant Chinese population.
Throughout the week, students carried out various webquests and honed their presentation skills, including the correct use of "Signpost Phrases". In their presentations, students managed to use all appropriate language in the correct context. Well done!
I'm looking forward to Week #2 of our Media Studies class, where we will focus on "The Rise of Blogs" which will eventually lead to a class discussion on Friday about the nature of different blogs and the information they contain.
Comments
comments