As part of EC Cape Town's Corporate Social Responsibility (CSR) programme, our weekly visit to St Paul's Primary School in the Bo-Kaap has been going well.
Hardie and I had our last lesson with the children on Tuesday afternoon before their school holiday, which begins tomorrow.
While Hardie played games and read stories to the younger students, my lesson with the older students (ages 12 and 13) revolved around a lady who was in a coma for 30 years! The students were first given some clues of the woman and had to speculate what had happened to her. I then read them the story, which sparked a lot of discussion after I said, If YOU were to wake up 30 years later, what would be different in the world?
Nothing compares to a child's imagination – and many came up with outrageous ideas – eg, We'll mostly likely have flying cars in the future!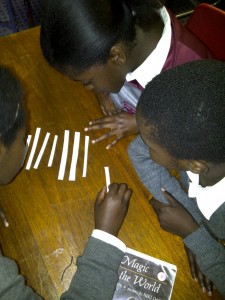 Sheetal
-Teacher
Comments
comments