Today we say goodbye to our fabulous and very talented English language teacher, Robbie.
His Intermediate English class surprised him with a Chocolate Mousse cake during the lesson to wish him farewell, as he is leaving EC Cape Town to embark on a new adventure in the middle east. Robbie is not only a well respected language teacher and colleague but also EC's in-house sports guru as well as football coach to the EC Cape Town football team ~ which is winning this seasons inter-school league by far and large!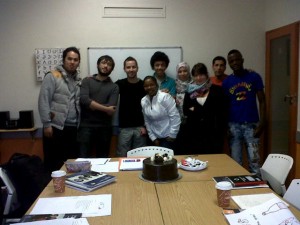 Robbie is off to teach English as a Foreign Language in Saudi Arabia and we, at EC Cape Town – teachers, students and staff, would like to wish him only the very best.
Hurry home Robbie, we miss you already!
NICOLETTA
Director of Studies at EC English Language Centre in Cape Town
Comments
comments