Students Avelino, Siriana & Altino said goodbye to their IELTS teacher Tonia, as their lessons came to an end on 24 August and they wrote the IELTS exam on 25 August. They gave Tonia beautiful flowers, a present and wrote heartwarming letters of thanks:
" You are one of the best teachers that I ever had. Your intelligence, support, kindness and beauty helped me to be strong enough and to believe that I can do it, in spite of worrying about the exam. In addition you were always there to support me in everything I needed"
" When we arrived here in Cape Town, we knew that we could experience something new and totally different. We had spoken to our friends who had already studied at EC and the feeling was unanimous because the school has the best references in all of the world. However, what we didn't know is that the person appointed to be our guide in this amazing experience would be you, Tonia, someone that is able to motivate their followers, making them believe in their potential to achieve their goals. For the future we just want you to know that you will always be in our mind. If we can do it, it's just because of you."
Good luck Avelino, Siriana & Altino and we wish you all the best for the future!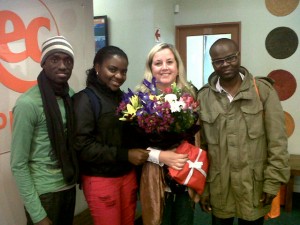 Comments
comments