The students in the Advanced class were were very taken by their class activity – a dictogloss – which is a classroom dictation activity where learners are required to reconstruct a short text by listening and noting down key words, which are then used as a base for reconstruction. Dictogloss is often regarded as a multiple skills and systems activity. Students practise using all skills (plenty of group work and mingling required ) and use vocabulary, grammar and discourse systems to complete the task.
There are several benefits stemming from the use of Dictogloss by teachers but to highlight one – activities using this language teaching technique encourage learners to focus on the form of language while also being very communicative. This type of technique is often used in task-based language teaching.
Well done teacher Tonia and great job students.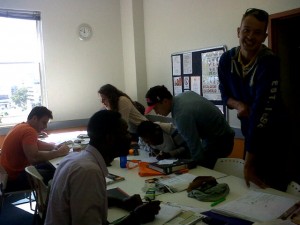 Nicoletta
Comments
comments