Heritage Day is a Public Holiday on which South Africans celebrate the cultural heritage of the many cultures that make up the population of South Africa.
*Please note school will be closed Friday 24 September.
Things to do in Cape Town:
– In commemoration of Heritage Day Iziko Museums are offering FREE ENTRY to all their museums including the Planetarium and the Castle of Good Hope, the oldest building in South Africa, on 24 September only.
– Heritage Day is also National Braai Day in South Africa because across race, language, region and religion, all South Africans love to *braai! (*Braai: the Afrikaans word for barbeque/ grill)
Catch some of SA's best musicians at this braai & party in Greenpoint: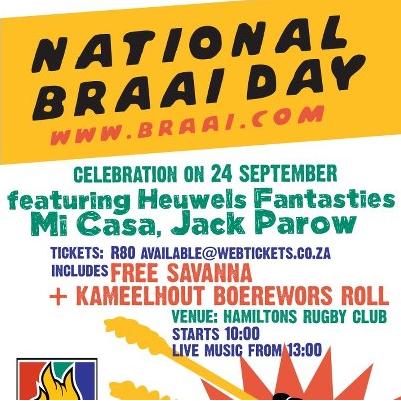 – There is also a tour to Kirstenbosch & Groot Constantia at 10h00. Cost: R120
Spend the morning exploring Kirstenbosch Botanical Gardens, world-renowned for the beauty and diversity of the Cape Flora & then visit Groot Constantia Wine Estate the oldest of wine farms in South Africa. Book with Claudia
Have a great long weekend!
Comments
comments