Edilson Soares, an Ielts exam preparation student from Angola jumped at the opportunity to showcase his newly acquired English skills and get some valuable practice in, by holding a lecture for Academic Year students ~ lectures are held every fortnight to provide free note-taking and listening practice. AY students complete a task and hand it in to the AY Coordinator for assessment.
Edilson's lecture was about Leadership – his talk covers areas such as the qualities a leader should have, "who" a leader should be, why it's important to have a leader and how to recognise one. His lecture included delicate nuances and very interesting and rather captivating metaphors. We are very proud of him and we hope that other students were inspired and motivated by his performance!
The very best of luck for the exams next week Edilson ~ we are certain you will come out tops!
– Nicoletta, DOS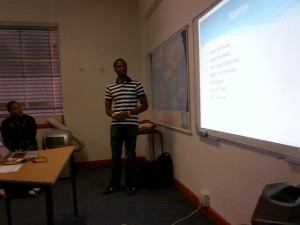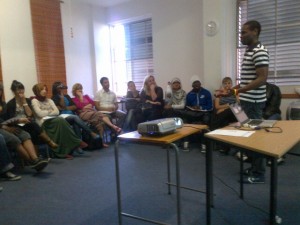 Comments
comments