EC Cape Town welcomes our intern, Beatrice, to the team!
"Sunshine, beaches, a breathtaking landscape, music in the streets, historic places, relaxed and very friendly people – is there a better place for an internship?
Just two weeks after my arrival I felt like being home here in Cape Town – the city is amazing and the people are so open-minded. Of course, my kind and welcoming colleagues at EC Cape Town really helped me to have a perfect start for my 6 months here in South Africa. They help you wherever they can, provide you with interesting and varied work and also the teachers have some friendly or joking words for you if you interrupt their classes to inform the students about today's activity. I really enjoy these activities like a sunset picnic at the beach, hiking to the top of Table Mountain and bar hopping because you have the chance to see the beauty of Cape Town and at the same time you spend your time with students from all over the world which is very interesting and really opens your horizon. Beside that it is perfect to improve your English.
At the weekends there are so many wonderful places to visit. Last week, I went to the Garden Route, where I had the chance to hug an elephant, to go kayaking and to do sandboarding…I am really looking forward to the next 4 months and many more adventures here in South Africa."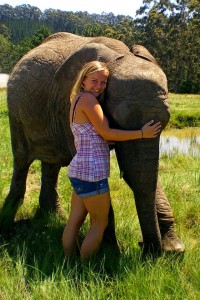 Comments
comments