Ahmed and Salem sharing information on their personalised study schedules. They are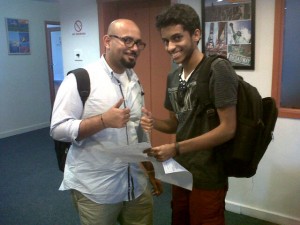 following guidelines set by the Director of Studies, Nicoletta, in a targeted timeframe to help them in areas they need to develop. This is done in a quiet study room WITH a teacher from 14 – 16. The result – students take learning into their own hands but still have the support from a teacher to set them in the right direction. This leads to happy, confident and motivated students like Ahmed and Salem, who know exactly what their aim is and feel secure in knowing there's someone there to support them on their journey to success!
Well done guys and keep up the great work and motivation!
Nicoletta
DoS
Comments
comments