by Sheetal Makhan /AYC
Every alternative week, we have lectures on a variety of topics which are compulsory to attend for AY students. Last week, Nicoletta gave an interesting lecture on The History of Pizza. The post-lecture writing task was:
"You are a journalist for an English Language Travel Magazine. Write a captivating review of the lecture for the magazine and EC Cape Town's Blog. It must highlight the main points of the lecture and have a strong summary."
This task is compulsory for AY students and we received a lovely, well-written essay from our AY20 student, Meral San from Turkey. Meral was awarded a delicious prize at the Certificate Ceremony for her efforts and we have published her essay below. Well done, Meral – you're a shining example to all our AY students at EC Cape Town. Keep up the fantastic work!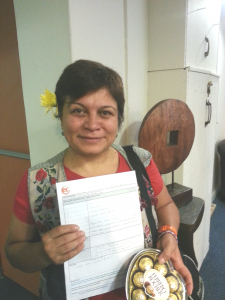 Do You Like Pizza?
If you say, YES!! You may read this writing.
Last week, teacher Nicaoletta gave us lecture. Lecture subject was "Pizza". The lecture was very well. I learnt a lot about Pizza. We learnt Pizza's history, pruductions, economies and pizza's name means.
Do you know where the name "Margaritha" comes from?
Margaritha was Queen. She was Italian, and Margaritha pizza firstly was prepaired for Queen Margaritha. Italia's flag colors are green, white, red. The Margaritha Pizza generally was green, white and red. There are tomatoes, cheese and basils on the pizza. This is original pizza of Margaritha.
And we can share all beautiful things, like pizza. If you eat alone pizza, it brings you the bad luck.
Comments
comments