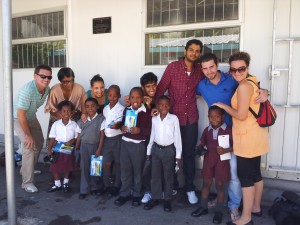 Some weeks ago EC Cape Town students took part in a raffle to raise funds for disadvantage learners. They bought tickets worth R15 from Centre Director Chris. A ticket entitled them to put forward a name of a teacher who they thought needed a relaxing massage. Lady Luck smiled upon Chimonay who was treated at the hand of a professional masseuse.
The remaining money was used to buy shoes for disadvantaged learners at St. Paul's Primary School in Bo-Kaap. On Tuesday, March 12 some EC Teachers and Students went to the school to hand over shoes and stationary to needy learners. Director of Studies Nicoletta, Teachers Chimonay, Tonia and Hardie were accompanied by Students Meral, Mohammed Abdulkarim, Anas and Haitham.
The Special Needs Teacher, Ms. Mooi, rounded up seven students who received brand new shoes and stationary. They looked pleasantly surprised and said thank you with gratitude. The students who received new shoes and stationary were; Khanyisa, Thokozani, Seth, Inathi, Simamkele, Thandolwethu and Mihlali Booi.
We sincerely want to thank the EC Cape Town students for opening their hearts and giving back to their local community. These gifts will make a contributing difference to the well being of the students and indirectly improve their academic progress.
Hardie – teacher
More pics to follow
Comments
comments