Would you recommend Cape Town and why?
I would definitely recommend Cape Town, because the city has so many different places to visit. Also the city is so multicultural and the people are always friendly.
What do you like about the school?
The best thing about the school is that the school is located in the city centre and it's very close to restaurants and all the highlights of Cape Town.
What do you like about the course?
I did the FCE Cambridge Course and I like it, because the course is well organized. You will expand your vocabulary and your grammar skills a lot.
What is your favorite hang out in the evening?
Longstreet, Sundowners on Lions Head, Waterfront, Jade Club & Club 31
Do you have any recommendations for future EC Cape Town students?
Hire a car and you can see all the beautiful places around Cape Town.
– Bastian Heindl, Germany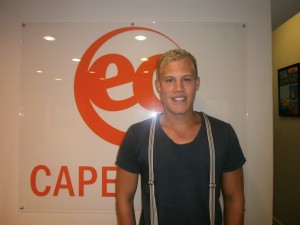 Comments
comments