At EC, all students benefit from receiving a mini report card at the end of each week – Score Cards.
Students are graded out of 10 on Participation and Motivation, Homework and Reading Circle ( a programme that promotes literacy  and the benefits thereof ). If the class has done a progress or Level test, the break down of the results and final grade are also added. Students can then discuss these grades with their teachers.The Score Cards help students recognise their strenghs and weaknesses and together with their teachers and can formulate a plan of action for continued progress.
We strive to give each student the best possible chance at success and introducing the concecpt of Learner Autonomy is just one of the ways we can assist and guide, therefore the Score Cards also play a vital role in EC Cape Town's S.P.L.A.S.H Programme – Student Progress through Learner Autonomy, Study Plans and the Homework class.
Helping Students Succeed in a Global Community.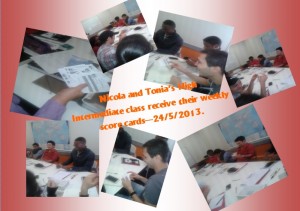 Comments
comments