by Sheetal Makhan / AYC
It started out as a general exercise where students had to formulate questions using the grammar point they used. The Pre-Intermediate 2 class directed their questions to their teacher, Sheetal. They asked what she does in the morning before coming to work. "I read & journal," she responded.
Their interest was piqued and they asked what exactly she reads & writes. She went on to tell them about her Gratitude Journal, where she gives thanks for people and events in her life.
The class then came up with a lovely idea to say "Thank You" to Abdul. Their reasoning was quite simple: He's always very kind and friendly to students at any time of the day, holds the gate open for latecomers in the morning and patiently waits for them to finish their conversations before having to pack the chairs away in the afternoon.
On Friday, 18 May Abdul was invited to the Graduation Ceremony on the second floor and to his surprise, he was honoured by all students, especially the Pre-Intermediate 2 class. It was noted that he is the first face many of us see in the morning and the last before we leave to go home, so it is vital that we acknowledge and say thank you! The class presented him with a letter with "Thank You" written in a number of different languages as well as sweet treats.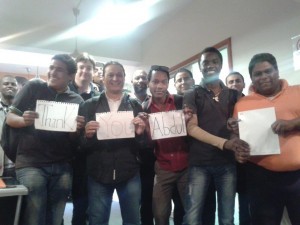 Comments
comments