by Sheetal Makhan / AYC
With the winter chills in full swing in Cape Town, many of us are fortunate enough to climb into warm beds at the end of a long day. We seldom remember those who don't have that privilege…until very recently when our students proved yet again that they have a very generous spirit.
On Saturday, 15 June a group of students joined Chris, Tonia and Sheetal and spent the morning with the children of Barcelona House in Guguletu. With very generous donations from our students totaling just over R3000, we were able to purchase warm winter blankets for them.
While some prepared snacks in the kitchen, others spent time outside taking advantage of the warm weather and played football. When everyone was tired out, we gathered back into the hall where lunch was served. Blankets were handed over to the children as well as some gifts, brought by some of our students. One in particular, Mohamed Khalil from Libya presented something very special. He personalized A4 sheets of paper for each child – as if it were a readymade frame! We set a task for the kids that they should draw something to show us on our next visit.
Everyone left Guguletu feeling happy and uplifted. After all, it doesn't take much to put a smile on a child's face – except to show that you care enough to spend your time with those who really appreciate it!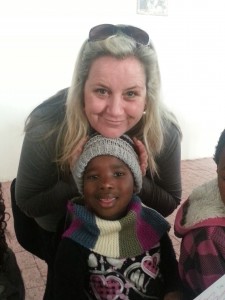 Comments
comments