by Sheetal Makhan / AYC
What connects us all as citizens of the world? Music is arguably an internationally spoken language, but we can also say that Food is an element that connects us.
We decided that our EC Party, held on Friday 21 June 2013 will have a special twist. Since EC Cape Town is a melting pot of cultures from around the world, we used this to our advantage and asked groups of students to prepare food or drinks from their country. The result of hard work and effort put in by our students of different nationalities blew us away. In a space of 5 minutes, we were able to tickle our taste buds with cuisine from all corners of the globe.
Party organizers, Nicola and Sheetal would like to extend sincere thanks to every student who prepared something and brought it to the party. It was such a success that we are contemplating a Part Two! Watch this space…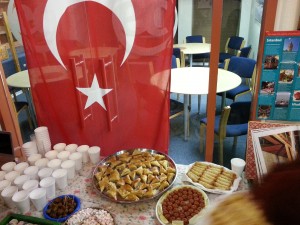 Comments
comments