by Sheetal Makhan / AYC
In the daily hustle and bustle that many of us seem to find ourselves in these days, we seldom stop to take notice of the important things in life. We are consumed with material things and often have a love-hate relationship with technology…which most of the time runs our life! All too often, we find ourselves saying, "I wish there were more hours in a day…"
Meral San arrived at EC Cape Town in January 2013. I was intrigued to know more about her, because the only information that I had was her name, nationality and age. During my first tutorial with her, I learned that she is a retired nurse. "Retired?" you may ask? That's exactly what I thought and my first response to her was, "…but you're so young!"
…and young at heart SHE IS! Meral has displayed time and time again that she is a model student. Starting at Elementary level, she accelerated all the way to her current level of Intermediate. She is admired by her peers and teachers for having a contagious zest for life. Her thirst for learning new things has fascinated all those she has met. She's well-travelled and well-read…and nothing stops her from doing more!
Over recent months, I have become rather fond of this lovely lady. Not only was she my Academic Year student, but she was a regular member of the group I accompanied on evening activities – like the theatre! We have shared some special conversations and she unknowingly motivated me in the context of my own life.
There was no question in my mind that Meral would be a perfect candidate to give a presentation on her experiences and to share her knowledge with others. On her own, Meral decided to title her lecture "Who am I?" and used the letters of her name to describe herself.
Giving a talk in public is scary enough as it is, so to give one in a language that is not your first is nothing short of terrifying! Meral presented her talk to a room full of students who left feeling inspired with the thought of, "If Meral can do it, so can I!"
Sadly, this is the last week for our former AY Star Student of the Month. She will be missed by staff and students, but never forgotten. Well done for all you have and will continue to achieve! We wish you much luck, love and light for the future!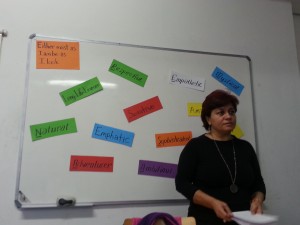 Comments
comments