Yoga and You
Is Yoga a sport or a religion? Come find out!
Join Samia and Nicoletta as they tell you why they have chosen to do Yoga.
Learn about Yoga history, different types of Yoga, why one can practice it and there will even be a demonstration of Vinyasa Flow Yoga!
Not to be missed!
Room 3.3 at 15.15 on 1 August.
Namaste!   –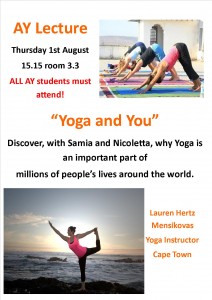 Nama means bow, as means I, and te means you. Therefore, namaste literally means "bow me you" or "I bow to you."
"The gesture is an acknowledgment of the soul in one by the soul in another. – www.yogajournal.com
Comments
comments