Yesterday, students in an Intermediate class did a comparitive study of the mobile phones they had.
The purpose was for them to accurately use comparitive structures and adjectives.
This is what they came up with:
"The Samsung Note II's screen is crisper than the Iphone and in general it's also more functional. The Iphone's battery however, lasts alot longer than the Samsungs'.
The Vodaphone is cheaper and smaller than the Samsung, Iphone and HTC phones but it works out to be more expensive because it does not have WhatsApp so you spend more money in the end.
HTC is heavier than the Samsung. The raw materials used to made the samsung are of better quality."
Well done Ebtehal, Nawal, Mohammed, Daniel, Rita and Walid in Nicoletta and Kate's Intermediate class.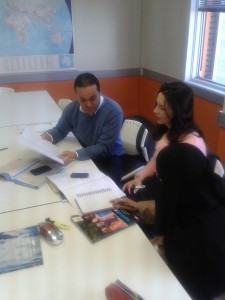 Comments
comments