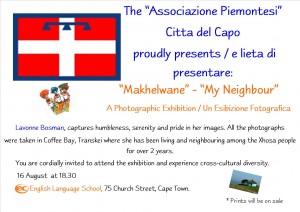 The Associazione Piemontesi di Citta del Capo, one of the regional Italian associations/NGO in South Africa, is proudly presenting:
 "Makhelwane" My Neighbour – A Photographic Exhibition.
EC Cape Town will be hosting this spectacular event which will exhibit some of Lavonne Bosman's most inspirational images of Coffee Bay in the Transkei, South Africa.
Lavonne, a local photographer and English teacher spent just over 2 years in Coffee Bay, living, educating and capturing images that literally speak to you!
Piedmont, a region in North-West Italy, is well known for many icons such as FIAT, Nutella, Martini and Ferrari. The exhibition will also display a number of editorial and historical prints of the region, showcasing it's incredible history and timeless beauty.
The exhibition will be on Friday 16 August at 18.30 at EC.
Come experience Cross Cultural Diversity.
Comments
comments