Yesterday, 2 October, we went karting at Canal Walk, a real boys outing! We were with a group of 9 guys, it was not allowed to race all at the same time so we divided the group. But before we could begin we first got some instructions regarding safety. Finally it was time to race! The one that finished his 20 laps first won.
Unfortunately not everybody understood, stuck to the rules or were simply too ambitious as Ali, Marwaan and Ibrahim were disqualified.
The first group that went consisted of 4 people and the other group consisted of 5 people. The winner of the first group was Meftah with a best lap time of 20.9 sec. I was the winner of the second group with a best lap time of 19.9 sec 🙂 After the racing we were really tired and hungry so we went to the Canal Walk Shopping Centre for Nando's and Subway.
But the day wasn't only about go-karting but also about learning. Claudio told me he still speaks a lot of Portuguese since he hangs out with Brazilians, Angolans and Portuguese students. But yesterday he was the only one who speaks Portuguese so he had to speak English, which wasn't a problem at all. The same went for the Libyan students, which made up most of the group, but everybody spoke English with each other. It was a great day with a lot of fun and even some new developed friendships!
– Marvin, EC Cape Town Intern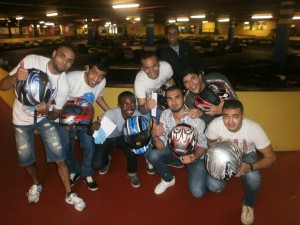 Comments
comments