by Sheetal Makhn / AYC

According to her teacher, Tonia, Susanne from Germany did an outstanding job with her writing tasks – examples of tabloid and formal reporting. Well done, Susanne!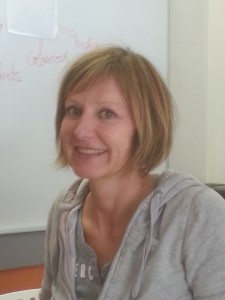 Queen "All shook up" by Elvis
Star-struck Queen Elisabeth II wrote shocking fan letters to "The King (of rock n'roll)" in the 60's. The letters were revealed yesterday, by an undisclosed source. The randy Queen writes that she loves his music but most of all his hip wobbling dance routines that made female fans scream around the world. The letters requested a "private audience" when his tour brings him to England.
Queen's private letters published
Private letters written by Queen Elisabeth II in the 1960's were published yesterday. One letter in particular has provoked interest in the young Queen's affairs. It was a letter to the pop icon Elvis Presley and was found in the singer's possessions. In this letter she requested a personal audience and made reference to Her Majesty's high regard for both the singer's music and signature dance routines.
Susanne will be giving a presentation on Thursday, 10 October 2013 at 15:15 in
Room 3.5 titled, "South Africa: A Rainbow Nation?"
Be sure not to miss it!
Comments
comments