Students joined EC teacher Aaliya on a visit to Kalkfontein as part of a Student Volunteer Project which was born out of the student's sincere interest and desire to meet local Capetonians outside Cape Town's City Centre and discover the rest of this multi-culturally rich city. They named this project "Rainbow Dreamers"
VISION: To build bridges of friendship between locals and foreigners and inspire the young children to dream and reach for their dreams just as our students are doing through their English courses at EC. Thus creating cultural awareness and inspirational exchange between local and international visitors.
PLACE: KALKFONTEIN ("Chalk Fountain") is a Post-Apartheid Township initially designed by the previous government for the area's local Working-Class Coloured Capetonians. Today it has grown into a mix of Coloured and Black people creating a unique, diverse blend of cultures, languages and beliefs. Situated at the foot of the Hottentots' Holland Mountains and on the outskirts of Stellenbosch, Kalkfontein is a 40-minute-drive outside the Cape Town City Bowl.
PIONEERS OF "RAINBOW DREAMERS" AND THEIR TESTIMONIALS:
"It was such an amazing experience; I met local people and spent a wonderful time with the children. All of them are so generous" – Fatima (Libyan)
"To go to a Township was a really nice experience for me and also one of the best excursions I did within the time I studied in Cape Town. It's a completely different world if you compare the life of the kids or of all the people there, with your own life" – Marvin (German)
"I was so serious before I went there because I thought people were living in such poor conditions with no food, no drinks, no houses etc. But it's actually different. People, especially the children gave me happiness, enjoyment and hope. I'm sure that this project will become sustainable as long as our students are interested."
– Kento (Japanese)
"It was a wonderful experience, I spent an amazing time with local South African people. This experience added to me different information about Cape Town. I have seen the beautiful part of this city but I haven't seen the other side until I visited this place." – Wejdan (Libyan)
"It was a very nice trip. I can that it was one of the most interesting experiences I've had. I was what we were going to there? But the children solved everything. They were very active and ready to play. It was easy to communicate with them and it was really interesting to see how happy they are although all the bad conditions."
– Ahmet (Turkish)
"The trip to Kalkfontein was amazing. It was a great experience to play and talk to the kids. I will never forget these 2 hours in my life." – Katharina (German)
"It was an eye-opener experience but to be honest I had been dreading it. Surprisingly though, the children were so polite, well mannered and satisfied with what they have. I will definitely go back!" – Kareem (Libyan)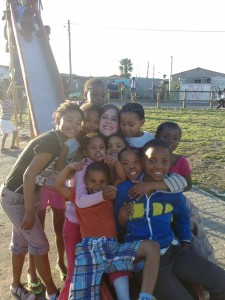 Comments
comments