On Saturday, 19 October a few of EC Cape Town staff members took part in The Colour Run (AKA "The Happiest 5k in the Planet"). Our team, aptly named "Orange All Stars" brought their best game to Sea Point Promenade bright and early and off we went. 5km went by like a breeze, but one wouldn't expect anything less when you're walking "The Happiest 5k.." with such great people.
The Colour Run is not a race, but an event that celebrates "Healthiness. Happiness. Individuality."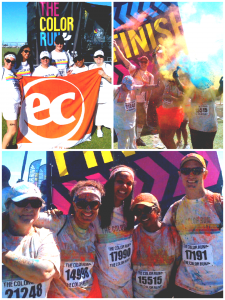 The only two rules that participants should adhere to are:
1. Arrive in white.
2. Leave splashed in colour.
…piece of cake!
Before the race even began, people found themselves in the midst of a colour storm. The Colour Run is a wonderful initiative that promotes fitness and general well-being. While one feels that they're getting a good work out, they're doused with various colours (after every kilometer or by their group members) which ultimately results in fits of laughter and merriment all 'round.
Did you know?
The concept of throwing colours originates from Holi, a Hindu festival consisting of fun, music, dance and rainbows of bright colours. The annual festival is celebrated the day after the full moon in early March, a time for spring harvest  in India. During this time, everyone has a license to to relax and behave in a manner that isn't usually considered "acceptable" like dunking family, friends and colleagues in pools of colour! At this time, race, religion and creed no longer exist and everyone is considered to be of an equal status.
~Sheetal Makhan / AYC
Comments
comments