At EC Cape Town, we encourage our students that the bulk of their English learning will actually happen outside the classroom. While teachers merely provide the "tools" to students, it is ultimately up to them to use it correctly. Traveling to a foreign country to study English comes with unlimited possibilities and opportunities. Choosing to study at EC Cape Town gives students a taste of what it really means to live in a "rainbow nation".
Last week, our Muslim students celebrated Eid-ul-Adha (Festival of Sacrifice). A few teachers and students took the day off to observe this auspicious day which is celebrated by millions around the world. It was wonderful seeing everyone in such joyous spirits! For some, it was the first time having to celebrate away from their family. It always warms my heart to see students gravitate towards each other and create their own "home away from home."
AY student, Murat Koç from Turkey voluntarily gave me this piece of writing, where he shares his experience not only of celebrating Eid, but doing so with a friend of a different faith. I was so touched by it, because it truly captures what we at EC Cape Town strive for – encouraging our students to open their minds and evolve. This is a wonderful example of EC students succeeding in a global community! Enjoy and please feel free to share your thoughts/comments.
~Sheetal Makhan / AYC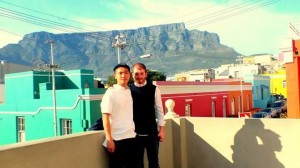 A Taiwanese guy…from a Muslim eye
by Murat Koç
Seeing and experiencing something for the first time always teaches us how people have different cultures and sometimes there is no distance. I was born in Turkey which has a 90% Muslim population. Coming to South Africa was the first time I left Turkey. To live within a mostly Muslim community has made me question how others view Muslims. I wanted to find out information and ask others about their opinion of Islam – which was when I met another student from Taiwan. Yank Yai is one of my best friends in Cape Town.
First of all, I would like to explain why I needed to write something about him. We have known each other for almost three months. No one can imagine that a Taiwanese guy can act as his friend's assistant when praying in a mosque or at the prayer room at school. At EC Cape Town, we have quite a large Muslim student population. Knowing each other gives one a lot of advantages to be on the same page most of the time. However, to have a cosmopolitan atmosphere in Cape Town could change all your prejudices. It happened to me!
When we reached the second Eid of Muslims (Eid Ul-Adha), Yank offered to accompany our group of friends during Eid. I was glad to hear that. Like us, he was absent from school for the day and joined us.
We met at 8 o'clock that is pray time for Eid. Extraordinary! He came to the mosque on time before us and as we started praying he had been taking lots of pictures. Moreover, we walked all around Cape Town to say "Eid Mubarak" to people. At the same time we joined others to pray together. The most interesting and memorable point was that while I was praying someone made a noise in the prayer room. Yank came into the room and said to the (Muslim) people, "Keep quiet – my friends are praying".  I was shocked that he obeyed rules more than others.
Finally, I would like to say "Thank you" to Yank for coming and sharing our celebrations. I am never going to forget those days and because of his respect towards us, I respect him a lot.
I wish from the God All the best for him.
Comments
comments