Last Saturday 19 October students joined me for a hike up Devils Peak. The turnout for the Devil's Peak hike was better than expected, seeing as it was arranged for a Sat morning… usually a 'post party/recovery' day. We made our way to the start of the trail, courtesy of 2 taxis and embarked on our 'EPIC' journey.
The ascent up 'Saddle Ridge trail' was taking it's toll and this was 15 mins into the trail. I soon had to help some students by encouraging them, very vocally, needless to say. The ascent was gradual but taxing. After about 30 mins we decided to stop off and have short break whilst waiting for some of the 'stragglers'. Once they caught up we carried on up the 'Ridge'. The trail was extremely popular that day as we encountered many outdoor enthusiasts, stopping them frequently with the inevitable question… "How much further?" As we finally got to the top of 'Saddle Ridge' we were ¾ of the way there. After a 15min lunch stop, we tackled the last uphill stretch. Most of the students were in high spirits as we summitted the 'Peak'.
The view from the top of 'Devil's Peak' was awe-inspiring, magnificent, incredible, unbelievable and picturesque to say the least. It offers you a 360° view of Cape Town. What seemed like 100's of photo-ops later and many questions answered by ME, we made our way back.
We arrived safely at the car park, albeit lots of sore legs later. Here's looking forward to the next 'EPIC' adventure!
– Mark, teacher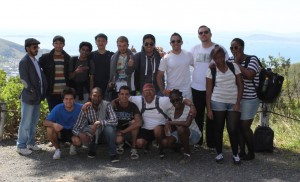 Comments
comments