Students in Chimonay's low intermediate class had to design a product and then give a powerpoint presentation thereof. Here are some comments and feedback from students:
Subaiah
Product: "Listening Hat"
"This project gave me good experience to design something from my own ideas, that can be useful on the market."
Pascal and Tiago
Product: "Compatable Wallet"
Our product is useful, practical, easy to use and cheap. This project has taught me to improve my talking skills. Our powerpoint presentation was an excellent team effort. We learnt new words in our presentation and that of others. We also improved our listening skills.
Ali Xadem
Product: "Kevio VPN"
This was such a great presentation for me to introduce my product and myself to today's technology and virtual world .
Agostinho
Product: "Coffee Mvg with Thermo and Temperature Reader"
"This project made me see that there is opportunities for new inventions."
Jeff Kelson and Timo
Product: "Fabulous Sofa"
"Our experience on producing this product was sharing different points of views from different groups and we learnt a lot from each other."
– Chimonay, teacher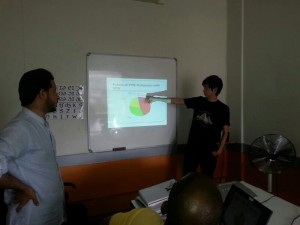 Comments
comments