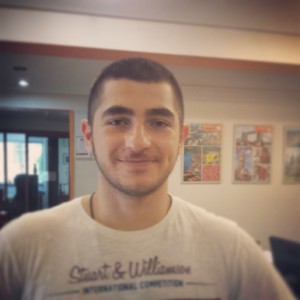 During the lunch hour yesterday, I bumped into Nurlan Alizada who is always so warm when I see him. He's been one of my very special AY students who stands out for various reasons.
1) He's always polite and respectful to his peers and teachers.
2) He has a "can do" mindset. Always ready to take on a challenge and never gives up.
For me, these are exceptional qualities.
"You know, I'm so happy when I see you because you're one of my 'original' students," I told him. I meant that over recent months we have had some very memorable students leave us. Of course, such is the nature of this industry, but we can't help it when certain students pull our heart strings.
Imagine my surprise when Nurlan replied, "You know teacher, today is one year since I've been here!"
They say that "time flies when you're having fun" but it was really hard to believe that a whole year has flown by and that Nurlan has actually "flown" from one level to the next!
So right there and then, we had an impromptu interview about his experience at EC Cape Town which is slowly drawing to an end.
Describing his first day at school, one year ago, Nurlan said that he felt "weird" because he couldn't speak any English. He was placed in Beginner level and over the course of the next few months, he progressed to his current level and is in the IELTS class. On top of it all, he has crept into the hearts of many teachers here who have only positive things to say about him.
Nurlan agrees that when a student goes to another country to study English, there's more to just learning the learning. You go to a new country to learn the culture and different things about the people. This is exactly what he did. He made it his business to learn about different lifestyles and peoples experiences from colourful backgrounds.
"I met people from many countries and they are still in my life," says Nurlan when asked about friends he's made and who've come and gone while he's been here.
Does he have advice for students who, like him, have just started their English journey with us?
Nurlan advises, "They should communicate with other people. They shouldn't be embarrassed of their language and speak to people who are different to their mother language. We all came here for the same reason."
Like his friends and teachers at EC Cape Town, it is no surprise that Nurlan's family and friends back in Azerbaijan are extremely proud of his achievements thus far. We know that this is merely a stepping stone for him to go onto bigger and brighter things. The next chapter of his life begins soon as his time at EC Cape Town ends in three weeks. He promised that he's going to make them extra memorable!
~Sheetal Makhan / AYC
Comments
comments