What happens to our students once they've left our doors for the last time and fly off into the horizon? Many of our students have gone on to do some pretty interesting things with their lives, and studying English as well as the overall experience of living in a foreign country, has a great deal to do with their success.
"Watcha Up To?" showcases past students and have them share with us what they're doing at the moment.
Today's post puts Angolan student, Madalena Filomena Ferreira in the spotlight. If I had to sum her up in just two words, they would most definitely be "Bold & Beautiful"! After you read her story below, you will agree that she was (and still is) the sunshine that fills a room.
~Sheetal Makhan / AYC
Watcha Up To?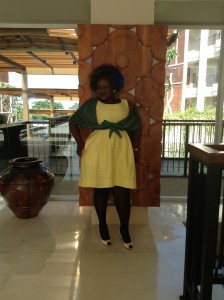 Hello, I am Madalena Filomena Ferreira, from Angola, Luanda. I started studying at EC in July 2012 and I was preparing my self for the IELTS exam. I spent 6 memorable weeks at EC.
I knew many friends, which I keep in touch till today, and my motto of life while I was in Cape Town with my mates was "Wholala life!"
Why "Wholala life?" Because of our free life style, we were busy studying during the day, but in addition to the studies, we were encouraged by our lecturers to mingle around, make friends, know people from different backgrounds, cultures, nationalities, religions, etc.
Furthermore, shopping in Cape Town was just hilarious, visiting museums, different tourist attractions, wineries, excursions, wandering in Long Street was just the cherry on top of the cake.
I was in Cape Town in 1995 for a weekend, but nothing compares to the 6 weeks I spent while I was at EC, it was indeed awesome!
In addition to that, being at EC, open a big opportunity of my life to get a scholarship for my Master studies in International Customs Law and Revenue Administration at University of Canberra, Australia. This opportunity would be impossible if I had failed in my IELTS course in EC Cape Town, which didn't happen, thanks to my lovely teachers who supported me for thick and thin!
Being in Cape Town EC, just open my mind to face a multicultural environment that I am facing here in Australia!
The suggestion to other students, who are currently studying or planning to enroll at EC, is: Go forward your dreams; you will never feel any regret, the experience you will have at EC, will last forever. As hard as it seems sometimes, don't give up! 
 Always remember that pressure makes diamonds!
Comments
comments