EC teacher Aaliya set up the KalkfonteinVolunteer Project which was born out of the student's sincere interest to meet and interact with local Capetonians.
The vision is to build bridges of friendship and contact between locals and foreigners inspiring our local young minds to aspire and reach for their dreams just as our foreign friends are doing through their English courses in Cape Town. Our vision is to stimulate cultural awareness and social exchange between SA locals and international visitors.
Every Thursday EC students go to Kalkfontein to volunteer and last week felt it would be a good idea to help the chidren of Kalkfontein clean their playgound since it was full of litter and also to teach them the importance of keeping your environment clean. Everyone got stuck in and helped clean the playground – with the children's help, of course! 
Find out more about the great work Aaliya and EC students are doing in Kalkfontein by following the blog or on the Facebook page: Rainbow Dreamers- Volunteer Project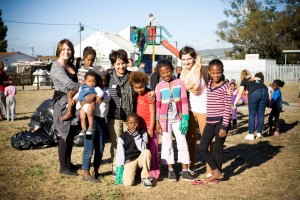 Comments
comments