What happens to our students once they've left our doors for the last time and fly off into the horizon? Many of our students have gone on to do some pretty interesting things with their lives, and studying English as well as the overall experience of living in a South Africa English School, has a great deal to do with their success.
"Watcha Up To?" showcases past students and have them share with us what they're doing at the moment.
Today we chat to a student with a smile who brightened a room when he walked in. Such a gentleman who radiated positive energy, I have no doubt in my mind that former Libyan student, Abubaker Bagher has a bright future ahead of him!
~Sheetal Makhan / AYC
Watcha Up To?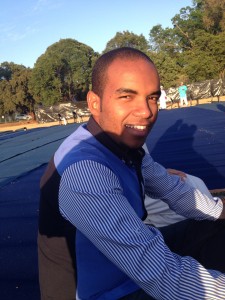 Hi! My name is Abubaker and I'm from Libya. I started at EC Cape Town in July 2012 of course at Elementary level, and finished in September at Intermediate level.
I studied English because I like to learn this language, and of course this is so much important for my school. I still have another 2 years and after that I will be a doctor. I hope that.
I met a lot of friends. It was lovely times with them.
I can not forget that. I still remember everything.
I will come back to Mother City [Cape Town] of South Africa. Soon!
Comments
comments