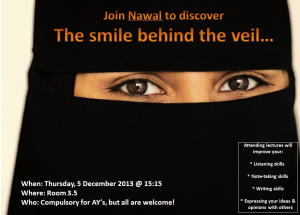 by Sheetal Makhan / AYC 
A few weeks ago, on Thursday 5 December, instead of having a regular "lecture" on our Thursday afternoon slot, I thought it would be interesting to incorporate some kind of forum discussion. Nawal, who is currently back in Saudi Arabia, agreed to address a group of students to share her experience of being a young, Saudi Arabian lady studying English in South Africa. She spoke about her own perceptions of the country before she arrived here as well as perceptions of how others may view her.
It's very easy to note that when one first meets Nawal, she is anything but shy and quiet! She has demonstrated to her peers and teachers that she is the epitome of a "go-getter"!
The presentation, titled "The smile behind the veil" was aimed at bridging any cultural gaps among students. For many, it is the first time that they would be meeting people of other countries, cultures and religions. Questions are bound to arise, like "Why don't you eat pork?" to "Why do ladies cover their entire bodies, revealing only their eyes?" All these questions create a sense of curiosity, which some may be hesitant to ask another directly.
Thank you, Nawal, for sharing your story and tidbits about life in Saudi Arabia. It was definitely interesting and educational for all present.
Comments
comments