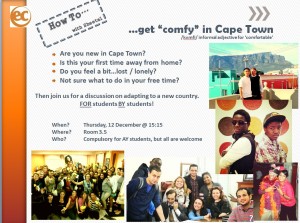 by Sheetal Makhan / AYC
"Change" means different things to different people. For some, it's exciting while for others, it's daunting. Leaving ones home, family and country is what all our students do. Whether it's for two weeks or six months, it is ultimately leaving ones comfort zone. We decided to have one of our "How To" series a forum-like discussion about settling in in Cape Town. What kind of challenges do new students face when in a new environment? What is the best way to meet new people and make friends?
Titled, "HOW TO: …get 'comfy' in Cape Town", I invited Murat (Turkey), Ihab (Palestine), Leandro (Brazil, Mohamed (Libya), Abdurrahim (Turkey) & Dariush (Iran) to form our panel. All students have been in Cape Town for more than 3 months and they shared their own stories with newer students of adapting to a new country & culture.
The afternoon served as a great platform for students to share their experiences with each other. It's always lovely for us to see our students flourish before our eyes. Very often, they would arrive quiet, reserved and cautious but they leave completely transformed! I always say that students who spend time with us here learn so much more than just a language. There are lessons about survival and life.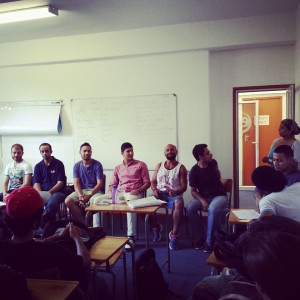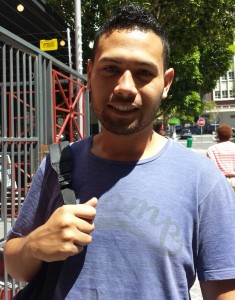 by Leandro De Souza Alves
I remember that the day I arrived in Cape Town I had mixed feelings. I was very happy because to learn English is one of my dreams, and I realized that it could turn a reality. On the other hand, I was too much afraid, because had left my family, my home, my country, all my life behind, and I was alone in another country without knowing no one.
So in the days after that, I started to tranquilize myself and gave me the opportunity to know new people and new cultures. Day after day, my life started to be more colourful here, I knew people that I'll never forget. Here I danced, I drank, I laughed, I lived special moments that will be always in my mind and in my heart.
Now I'm leaving Cape Town and I have done a lot of things, everything that I wanted to do, so no one regrets will survive.
Sometimes I think that these 12 weeks seemed to be a whole life, and it was, from the moment I started to live here not just with my body, but in the moment I had put my soul on it.
I just hope that everyone could live here without fears and enjoying all the moments because the day to go back home will come for everybody. So just live and don't worry. And make friends, because they will help you in your bad moments but, they will make you laugh in the most part of them.
=====
EC offers various courses, including business English in South Africa.
Comments
comments