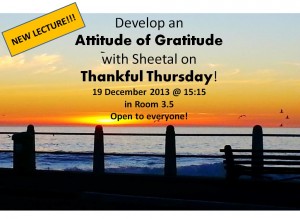 by Sheetal Makhan / AYC
I thought it was quite apt to have our last lecture of 2013 based on my favourite topic, being grateful for all we have. The lecture, titled "Develop an Attitude of Gratitude" was the second one I've presented and like the last time, I hope that it will begin a wave of "thank you's" being spread around the world. For many years, I have kept a Gratitude Journal where at the end of every day, I list everything I am grateful for  – from my health, to my two healthy, loving and supportive parents, a job that I love, supportive colleagues…and the list just goes on and on. I have even written that I was grateful for the petrol attendant for serving me with such a beautiful smile and graceful attitude. My point is that you can be grateful for ANYTHING. Even people who feel as though they have hit rock bottom have something to say "thank you" for. Even if it's just for a meal, or the hot water they showered in.
Each one of us says "Thank You" on a daily basis, but what do we really mean by it and do we honestly "feel" it?
I sincerely hope that a spark was created among at least a handful of students. I invite YOU to begin developing an Attitude of Gratitude today..!
Comments
comments