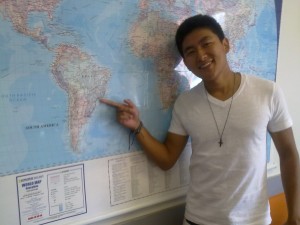 Rafael, who ended his course with us last week wrote this and shared it with his teacher, Hardie:
This is my last week in Cape Town and I'm already sure that I'll miss this place and the people that I met here. I had the chance to get to the top of Table Mountain and see the sunset. It was amazing! I also could know beautiful beaches like Clifton and Camps Bay. The Garden Route was a nice experience and my friends and I visited other cities and different places. During this trip, I had some exciting moments, like bungy jumping. Actually, the most exciting feeling, I think. I also improved my English, appreciated beautiful views, tasted different kinds of food, but I think that nothing pays the chance that I had to know many people from different countries.
I'm sure that I'm going back to my country a better person: more responsible, more tolerant, more flexible, more intelligent and more friendly.
I just have to say to EC School and my new friends, "Thank you".
====
EC offers different English Language courses, including business English in South Africa.
Comments
comments