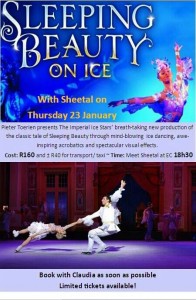 by Sheetal Makhan / AYC
"Oh..my…!"
"Wow!"
"Teacher, amazing!"
"Incredible"
"The people who didn't come, they made a big mistake," said Mohamed Algantri from Libya.
This was Mohamed's second theatre outing with me this month and I have a feeling he's been bitten by the "Theatre Bug".
Last night students were dazzled with awesome sights and effects in the form of "Sleeping Beauty on Ice" at the Artscape Theatre.
The classic fairytale includes 26 skaters of Olympic, World, European and National Championship levels. The award-winning troupe boasts a worldwide following and has amazed audiences with over 2000 shows in more than 23 countries. Their previous world tours, like Cinderella on Ice, Swank Lake on Ice and The Nutcracker on Ice) have all received raving reviews and standing ovations.
Like our recent outing to see Scrooge, there were some students for whom this was their first visit to a theatre or to enjoy a live performance. I'm thrilled that we are able to spread the culture of the Arts to our students, who, ultimately are here to get the full experience of living in a foreign country – not only learning a new language (English) but being exposed to so much more than what they are used to.
A big thank you to all who joined me last night!
Comments
comments