What happens to our students once they've left our doors for the last time and fly off into the horizon? Many of our students have gone on to do some pretty interesting things with their lives, and studying English as well as the overall experience of living in a foreign country, has a great deal to do with their success.
"Watcha Up To?" showcases past students and have them share with us what they're doing at the moment.
For this post, we chatted to Ayşenur from Ankara, Turkey. She's currently at university and studying very hard! She shares her experience not only about studying English with us, but about her time spent in Cape Town and South Africa.
~Sheetal Makhan / AYC
Watcha Up To?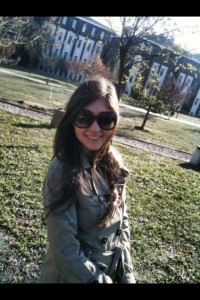 Hi guys,
My name is Ayşenur Ünal. I am from Ankara, Turkey. Before I started at this English Language School, I heard many good things about EC Cape Town. One of my friends strongly recommended this school and said so many good things to me. After I went there, I noticed very quickly that I made a right decision for my career.  The city and the EC Cape Town were fantastic. I remembered my first day in Cape Town, the city was so nice. There were so many things I could do. After I came to Cape Town, my family were worried about the city. But I really liked Cape Town. There were really nice people there.
I think EC Cape Town was really good choice for me. I started at EC Cape Town in June 2012 at Elementary level. Before this time, I could not speak, write or understand English. Also I hadn't had a confidence for speaking foreign language.  But the teachers in EC Cape Town were really nice and they supported and encouraged me to speak English. Every day I learnt new things so each day was exciting for me. I could talk to the staff at any time, they are always there to help me if I had a problem. Day by day, I got a confidence for English and enjoyed very much my time in Cape Town. It looked like a dream, when I came back to my country I could speak English. Now I watched movies and news so as to improve my English level.
Not just learning English, the EC Cape Town also gave me opportunity to meet people from all over the world. There were many social activities such as party, visiting the some place in South Africa. During my time at EC Cape Town, I not only learned about English as a language, I also learned how to live far away from my family and friends and how to live in different country and culture.
I am very glad to have attended this school and know the people who work there. My English is definitely better now. If you would like to learn or improve your English, see many good places and meet nice people from different backgrounds, I think it is very good choice for you and I would definitely recommend this school.
Best wishes from Turkey.
=====
EC offers various courses, including business English in South Africa
Comments
comments