EC Cape Town offers free academic activities and services to all students. During these activities students are able to enhance their English skills by interacting with teachers and students at all levels one on one and in group settings. Among the free activities is our weekly Pronunciation Workshop where students improve vowel and consonant pronunciation as well as word stress and natural intonation.
Join a teacher every Wednesday from 15h15 in Room 5.10 for a free pronunciation class. See March schedule below: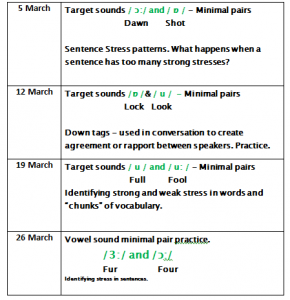 ===
EC offers many different English Courses, including Private Lessons in English in Cape Town.
Comments
comments